#Koala amigurumi Free Pattern

Hello friends. First of all, welcome to my blog. Today, I will share with you a very nice koala free amigurumi pattern. As you know, Koala is a very cute animal that lives in Australia. It is very slow and loves to hug.
It is an animal that is famous especially for its free sleep all day. In fact, it is not preferred as amigurumi. The biggest reason for this is that it is not a well-known animal. As a natural environment, it can only live on the Australian continent. Although I don't know much about the subject, I think it's about evolution.
Just like kangaroos, they evolved there millions of years ago. Anyway, let's leave the scientific issues to us scientists :). Let's continue talking about the amigurumi. Yes, friends, it is very difficult to knit the amigurumi. But when you complete, you will have a very nice amigurumi.
#Amigurumi teddy bear Free Pattern

First of all, welcome to my blog. I continue to share beautiful amigurumi free patterns. First of all, I would like to thank Dariya Baysh for sharing today. You can reach her at "@dariya_baysh" on Instagram. She is a very talented designer.
The amigurumis she does are very nice and he also likes to use soft yarns. If you have a predisposition in this way, I suggest you follow her. They may have great shares that escaped our attention.
We have talked about bears many times before. Bears are a very familiar animal. It is one of the first animals it knows, especially after our children start to recognize animals. Especially in television programs or videos, we can see a lot of cute bears.
Even though television is not watched much now, there are plenty of youtube videos. I had a bear yogi in my childhood. I loved it very much. Of course, the characters are not that simple anymore. Characters that are much more lifelike, realistic and appeal to children's imagination are created. If we come to the amigurumi, it is made using a very cute soft yarn.
#Sleeping sheep amigurumi Free Pattern

Hello friends. Welcome to my blog. Today I shared two amigurumi free pattern for you. Both of my pattern today are very cute sheep. I have been writing this blog for 14 days and I haven't shared any sheep amigurumi pattern yet.
Actually, there is a bit of hopelessness about whether to leave the blog in me. It has been 14 days since I started writing and nobody has visited me until now :). Of course, this is a joke. I think I will reach you as I continue my writing.
Anyway, I stop being selfish. As you can see in the pictures, today I am sharing the second free pattern for amigurumi. It's a pretty nice model. Designed by Olga Lukoshkina. Thank you very much. Because she shares such a nice pattern for free.
#Lovely sheep amigurumi Free Pattern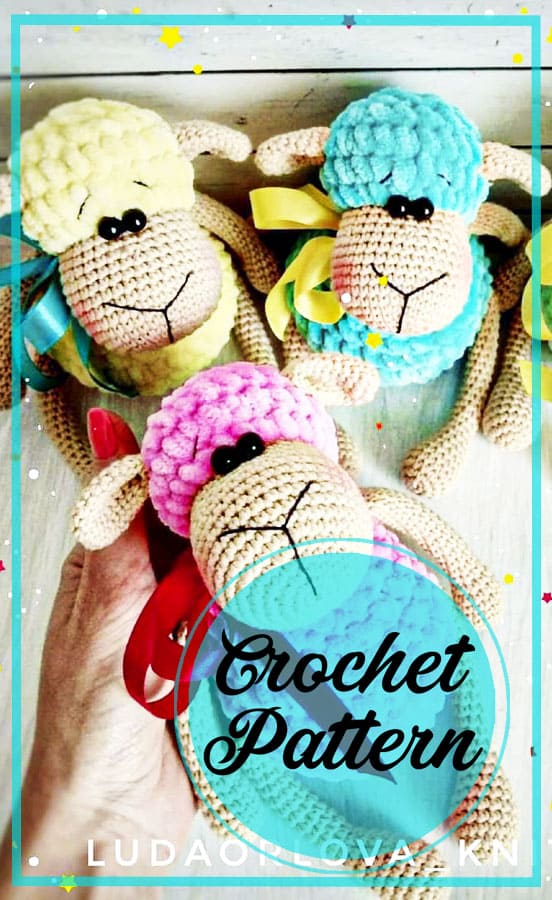 Hello friends. Welcome to my blog. In today's article, I will share two amigurumi free pattern with you. Lyudmila Orlova is the creator of the first one. Thank you very much, she is a very talented designer.
I will share his vk.com and instagram profile under this topic. She designs high quality and great amigurumis. I suggest you follow her. I think this sheep amigurumi model is my first sheep amigurumi share. So I'm a little excited and I can't find much to write.
It actually looks like a simple model. But it looks pretty cute due to the quality of the thread you use and the harmony of the sample. Designing an amigurumi is like painting. Small touches cause huge changes.
#Big dog amigurumi Free Pattern

I am here today to share the second free amigurumi pattern with you. First of all, welcome to my blog, friends. How are you today? I will share an amigurumi model that is not preferred for you today. However, this model is quite different from the dips.
Especially with its appearance, it is really one step ahead. It looks pretty stylish when finished. Of course, the quality of the rope is also important in this. As you can see in the picture, today I will share with you the dog amigurumi model. I hope you liked the picture and downloaded the sample.
Dogs are a family of many different species. They can be very scary, they are very cute. Of course we love dogs that are cute :). In fact, dogs are all beautiful. It's about who raised these dogs. The room will be how you raise your dog.
#Little and cute bear amigurumi Free Pattern

Hello friends. How are you today. If you ask me, I am very pleased. Today we had a nice day with my daughter and in the evening I searched some amigurumi pattern for you and came across a few examples. I wanted to share these with you.
The first is a tiny amigurumi teddy bear model. A very cute but rather small model. I am actually in favor of making bear figures big. The characters of the bear are quite big in all the movies and videos.
That's why we have an eye for big bears. It can embrace more easily in children. Such small toys are usually for more adult children. It happens to those who use it as a key ring. But usually kids use it.